Jewelry Bowls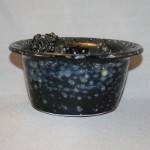 These ceramic pieces offer a way to organize earrings, bracelets, rings, or anything else you choose. Each bowl is formed with holes around the rim, suitable for hanging earrings, and a hollow center to keep small pieces corralled.
All prices include US shipping
Available Jewelry Bowls Bowls
Don't see what you're looking for? Contact Sonya about a custom request. Custom requests require 4 to 6 weeks to complete.